Cestino con manico Tiffany Broadway Moore Astor
Cestino con manico decorato con foglie di vite, cestino per zucchero
cesto di cioccolatini
Design: John C. Moore circa 1851/52
Esecuzione: Tiffany and Co., 550 Broadway, New York 1853/54, USA
Argento sterling, argento 925
Dimensioni: larghezza 17,3 cm, profondità 13 cm, altezza senza manico 12 cm, altezza con manico circa 16,5 cm, peso circa 455 g. -1 pollice = 2,54 cm-
segnato sul pavimento con: Tiffany & Co., 50, sterlina inglese, 4597, 550 Broadway
Condizioni: molto buone, di alta qualità, monogramma
---
Vergleichbarer Henkelkorb als Teil eines Services wurde William Backhouse Astor Jr. anlässlich seiner Hochzeit im September 1853 geschenkt.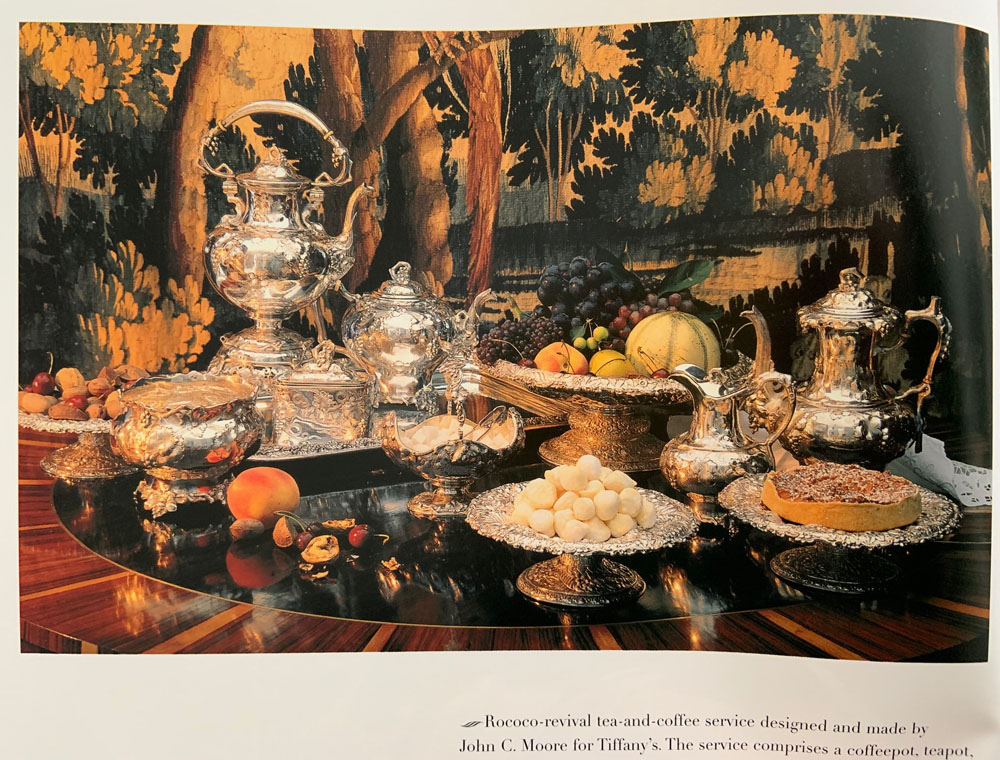 Literatur: John Loring: Magnificent Tiffany Silver, S. 14
Literatur: TIFFANY SILVER by C.H. Carpenter, Jr. (Dodd, Mead und Company New York).
Literatur: Hood, William P. Jr., Berlin, Roslyn and Wawrynek, Edward: Tiffany Silver Flatware 1845-1905. When Dining Was an Art. Woodbridge, Suffolk, England 1999.
Charles Tiffany beauftragte John C. Moore und seinen Sohn Edward C. Moore, exklusiv für Tiffany & Co. zu arbeiten, nachdem sie 1851 auf der "Crystal Palace" Weltausstellung in London
für ein Teeservice aus massivem Gold im Rokoko-Revival Stil große Anerkennung erlangten.
Dieses Service wurd mindestens noch zweimal angefertigt:
Für Eisenbahnpräsident Charles F. Pond 1954. Hartford and New Haven Railroad Company. Tiffany Tablett
sowir für James E. Birch 1855, Gründer der California Stage Company
Im Museum:
Tiffany Silber
weitere Tiffany Objekte in unserem Bestand
Tiffany Broadway Moore Weinhenkelkorb Astor
Stichwörter:
James E. Birch, California Stage Company, Charles F. Pond Päsident der Eisenbahngesellschaft, Hartford and New Haven Railroad Company. Tiffany Tablett – High Museum Art, Atlanta, Georgia, USA.
The Great Exhibition = 1. Weltausstellung in London 1851, Caroline and William Backhouse Astor Jr., 840. Fifth Avenue New York. USA
Gerne kümmern wir uns um Ihre Wünsche, klicken Sie bitte weiter oben rechts auf SIE HABEN FRAGEN? oder ganz oben rechts auf KONTAKT.
Oder besuchen Sie unsere Geschäftsräume während der Öffnungszeiten.
Finden Sie weitere Objekte auf unserer Produktseite!