Art Nouveau Albin Müller Ink Blotter, cast iron Ilsenburg,
Artists Colonie Darmstadt Mathildenhöhe – A Document of German Art, 1901. Germany, design Albin Mueller 1903-1904, good Art Nouveau iron Ink blotter, part of a desk set, – executed by: Fürstlich Stolberg'sche Hüttenamt, Ilsenburg am Harz, signed AM model no.4001 , cast iron,
_____________________________
Jugendstil Albin Müller Löschwiege Gusseisen Ilsenburg
Darmstädter Künstlerkolonie Löschwiege, Tintenlöscher aus einer Schreibtischgarnitur
Entwurf: Albin Müller um 1903/04 [1871 Dittersbach – 1941 Darmstadt]
Architekt, Entwerfer für angewandte Kunst, Maler, Schriftsteller
Darmstädter Künstlerkolonie Mathildenhöhe – Künstler-Kolonie Darmstadt, Ein Dokument deutscher Kunst, 1901 –
Ausführung: Fürstlich Stolberg'sches Hüttenamt, Ilsenburg am Harz, Modell-Nr. 4001, Eisenguss
am Boden gemarkt: Gießermarke (Reliefmedaillon mit Wappen), 4001 (vertieft).
1903 hatte Albin Müller die Leitung der Kunstguss Abteilung der Fürstlich Stolberg'schen Eisengießerei. Die von ihm entworfenen Zier- und Gebrauchsgegenstände in schwarz poliertem Gusseisen gehörten seitdem bis zum Ausbruch des ersten Weltkrieges zum Erscheinungsbild der großen Ausstellungen: St. Louis 1904, Dresden 1906, Petersburg 1908, Weltausstellung Brüssel 1910, Mathildenhöhe Darmstadt 1914… (vgl. Bröhan Katalog, siehe Literaturangabe unten)
Maße: Höhe ca. 9,5 cm, Breite 15,5 cm, Tiefe 8 cm
— 1 Inch (Zoll) = 2,54 Zentimeter —
Zustand: sehr gut, schöne dunkle Patina
Literatur: Museum Künstlerkolonie Darmstadt. Katalog. S. 178 Nr. 271 mit Farbabbildung
Literatur: Dekorative Kunst Jg. 7, 1903/04, S. 304 Abbildung: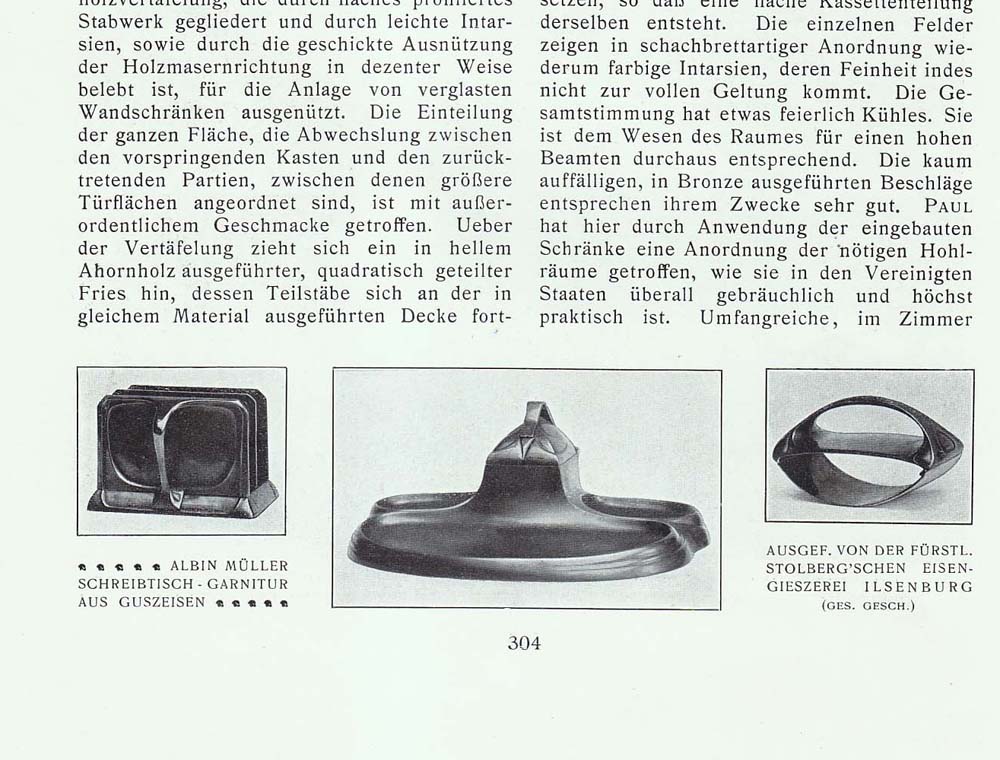 Literatur: Deutsche Kunst und Dekoration Bd. 14, 1904, S. 495 mit Abbildung.
Sanatorium Dr. Brauner, Braunlage Haarz
Ein weiteres Exemplar dieses Entwurfes befindet sich in der Sammlung Darmstadt, Institut Mathildenhöhe, Städtische Kunstsammlung, Inventar-Nr. 1931 KH:
https://www.bildindex.de/document/obj06171457?part=0&medium=fmd482549
Albin Müller [Dittersbach 1871 – 1941 Darmstadt] dt. Architekt, Entwerfer für Kunstgewerbe, Maler. Bevor er 1906 auf dei Mathildenhöhe an die Darmstädter Künstlerkolonie berufen wird, beteiligt er sich höchst erfolgreich mit Inneneinrichtungen und Kunstgewerbestücken, hauptächlich aus Zinn, Gusseisen und Serpentinstein, an der Internationalen Ausstellung in Turin 1902 sowie 1904 an der Weltausstellung in St. Louis. Es folgten die Teilnahmen an der hessischen Landesausstellung 1908 (Architektur) und an der Brüsseler Weltausstellung 1910 (Speisezimmer). Besonders erfolgreich ist er nun auf dem Gebiet der Keramik. 1908 wird der Autodidakt nach Olbrichs Tod führender Architekt der Darmstädter Künstlerkolonie.
Vergleichsstücke befinden sich in der Sammlung des Museums für Kunst und Kulturgeschichte MKK Dortmund und sind Teil der Ausstellung "Rausch der Schönheit. Die Kunst des Jugendstils (9. Dezember 2018 – 23. Juni 2019): https://www.dortmund.de/de/leben_in_dortmund/nachrichtenportal/alle_nachrichten/nachricht.jsp?nid=549123
Gerne kümmern wir uns um Ihre Wünsche, klicken Sie bitte weiter oben rechts auf SIE HABEN FRAGEN? oder ganz oben rechts auf KONTAKT. Oder besuchen Sie unsere Geschäftsräume während der Öffnungszeiten.
Finden Sie weitere Objekte auf unserer Produktseite!