Bruckmann World Exhibition 1900 silver cutlery pattern Iris serving fork
Serving fork with engraved and sawn decor, partly gilt
for the Paris 1900 World's Fair.
Model no. 2401,
Iris pattern.
Cutlery from the world exhibition cutlery for Paris 1900
German Art Nouveau silver cutlery
Design and execution: P. Bruckmann and Sons, Heilbronn, Germany
800 silver, partly gilt
Length approx. 23 cm – 1 inch = 2.54 cm
Condition: very good, rare!
---
Bruckmann Weltausstellung 1900 Silber Besteck Muster Iris Vorlegegabel
Vorlegegabel mit graviertem und gesägtem Dekor, partiell vergoldet
für die Weltausstellung Paris 1900.
Modell-Nr. 2401,
Iris-Muster.
Besteck aus dem Weltaustellungsbesteck für Paris 1900
Deutsches Jugendstil Silberbesteck
Entwurf und Ausführung: P. Bruckmann und Söhne, Heilbronn, Deutschland
Silber 800, Laffe vergoldet
Länge ca. 23 cm – 1 inch = 2,54 cm
Zustand: sehr gut, selten!
Literatur: Sänger, Reinhard W. Das deutsche Silber-Besteck (Biedermeier – Historismus – Jugendstil 1805-1918.) Stuttgart 1991., S. 48-52,
Wiedergabe der Musterblätter für das gesamte in Paris ausgestellte Besteck: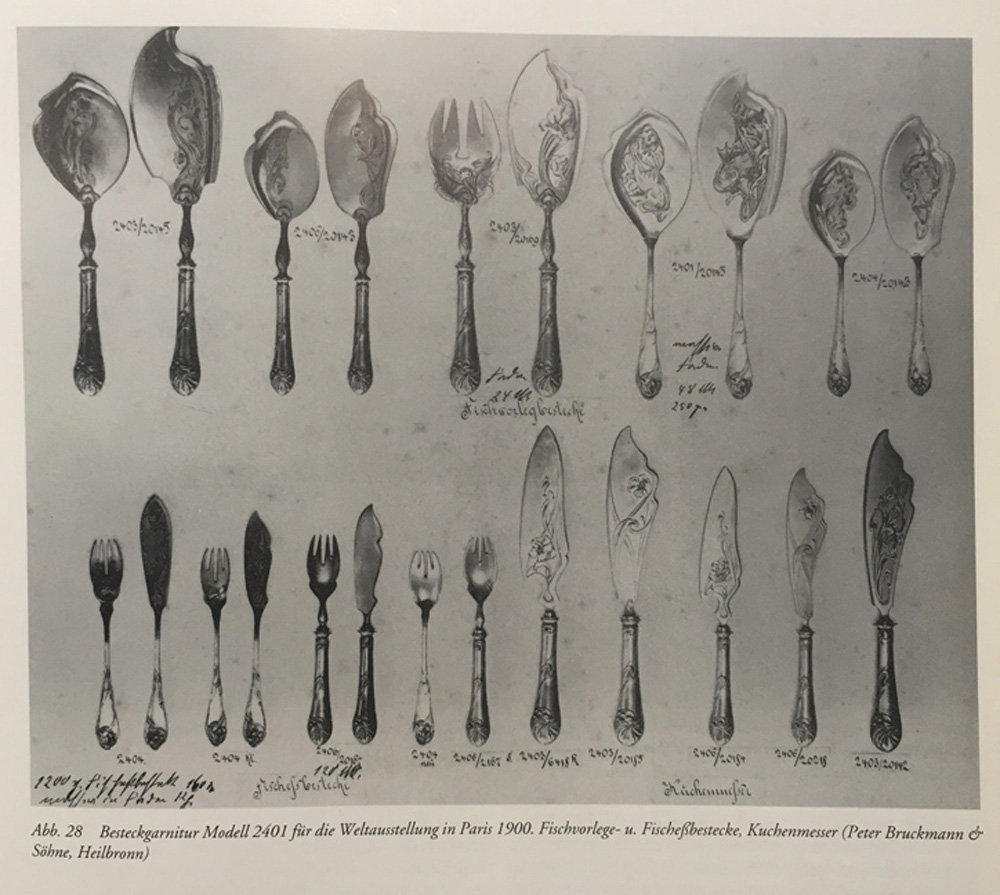 Literatur: Staedtische Museen Heilbronn, Silber (aus Heilbronn) fuer die Welt (P. Bruckmann und Soehne 1805-1973)
Literatur: Grotkamp-Schepers, Barbara und Sänger, Reinhard W.: Bestecke des Jugendstils, Bestandskatalog des Deutschen Klingenmuseums Solingen. Stuttgart 2000. S.152. Abb. 189
Literatur: Marquardt, Europäisches Eßbesteck, Stuttgart 1997, Nr. 603.
Literatur: Art et Décoration, Bd.8, Paris 1900, Abb. S.175;
Literatur: Metallkunst, Silber – Kupfer – Messing – Zinn, Vom Jugenstil zur Moderne Kunst vom Jugendstil zur Moderne (1889 – 1939) / Sammlung Karl H. Bröhan, Berlin; Bd. IV., Berlin 1990, S.70, Nr.59.
Weiterführende
Literatur: Graham Hughes, Modern silver throughout the world 1880-1967.
Literatur: Staedtische Museen Heilbronn, Silber (aus Heilbronn) fuer die Welt (P. Bruckmann und Soehne 1805-1973)
Literatur: Jochen Amme: Historische Bestecke. Formenwandel von der Altsteinzeit bis zur Moderne [Arnoldsche (2003)]
Besteck Muster IRIS | WELTAUSSTELLUNGSBESTECK
Für Sammler von Jugendstilbestecken lohnt sich der Besuch in Solingen im: Deutsches Klingenmuseum Solingen
Literatur: Ausstellungskatalog: Silber aus Heilbronn für die Welt. P. Bruckmann & Söhne (1805-1973). Heilbronn 2001.
"Um 1900 stellten mehr als 700 Arbeiterinnen und Arbeiter echt silberne Bestecke, Pokale, Tischaufsätze und Services her. Bruckmann bezog vor dem Ersten Weltkrieg mit über 24.000 Kilogramm den Löwenanteil des in Deutschland verarbeiteten Silbers. Motor dieses Erfolgs war Geheimrat Peter Bruckmann (1865-1937), ein Enkel des Firmengründers. Unter seiner Leitung arbeiteten befähigte Gestalter wie Adolf Amberg, Friedrich Adler, Michael Lock und Carl Stock im Firmenatelier." (ebd. S. 7)
Gerne kümmern wir uns um Ihre Wünsche, klicken Sie bitte weiter oben rechts auf SIE HABEN FRAGEN? oder ganz oben rechts auf KONTAKT.
Oder besuchen Sie unsere Geschäftsräume während der Öffnungszeiten.
Finden Sie weitere Objekte auf unserer Produktseite!
Bruckmann Weltausstellung 1900 Silber Besteck Muster Iris Vorlegegabel