Burgun, Schverer, Meisenthal glass vase Souffleur de verre a la Halle, 1897
Vase,
with the engraved depiction of a glass blower
Art Nouveau, Désiré Christian, Meisenthal, Lorraine
Design and execution: Burgun, Schverer & Cie., Meisenthal Lorraine, France around 1897
Marked on the bottom
Dimensions: Height approx. 24.8 cm
— 1 inch (inch) = 2.54 centimeters —
Condition: very good
---
Burgun, Schverer, Meisenthal Glas Vase Souffleur de verre a la halle, 1897
Vase,
mit der gravierten Darstellung eines Glasbläsers
Jugendstil, Désiré Christian, Meisenthal, Lothringen
Entwurf und Ausführung: Burgun, Schverer & Cie., Meisenthal Lothringen, Frankreich um 1897
Am Boden gemarkt
Maße: Höhe ca. 24,8 cm
— 1 Inch (Zoll) = 2,54 Zentimeter —
Zustand: sehr gut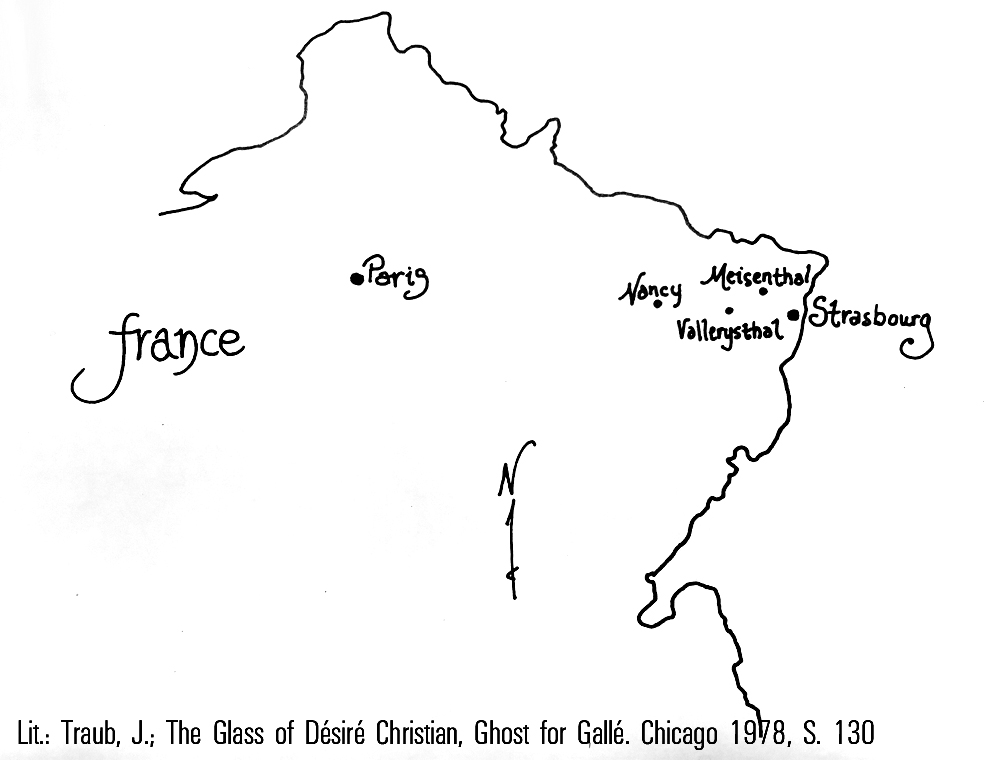 Glashütte Burgun, Schverer & Cie, Meisenthal [1711-1969]. 1711 wird die Glashütte in Meisenthal neu errichtet, 1721 Bau einer weiteren Glashütte der Firma in Goetzenbruck. 1824 Umbenennung von Verreries de Meisenthal in Burgun, Schverer & Cie. 1834 werden erstmals Arbeiten auf der Landesausstellung in Metz gezeigt, die durch ihre herausragende Qualität  in der Regelmäßigkeit und der Form und Genauigkeite des Schliffs auffallen. In den 1860er Jahren erste geschäftliche Verbindungen zu Charles Reinemer-Gallé, Nancy. Ab 1867 wird Émile Gallé in der Glashütte ausgebildet. 1894 endet die Zusammenarbeit mit Gallé, der seine eigene Glasproduktion in Nancy aufbaut. 1885-1896 liefert Désirée Christian wichtige Entwürfe für die Glashütte. 1969 Schließung der Glashütte.
Kürbisvase Museum Sammlung Kunstpalast, Düsseldorf
Vase mit Schmetterling, Sammlung Museum für Kunst und Gewerbe Hamburg
Vase mit Orchidee, Sammlung Museum für Kunst und Gewerbe Hamburg
Literatur: Schmoll gen Eisenwert, J.A. und Schmoll gen Eisenwert, Helga: Nancy 1900, Jugendstil in Lothringen. Zwishen Historismus und Art Deco. Mainz am Rhein 1980.
Austellung im Münchener Stadtmuseum 1980/81, Seite 355-356, Verlag Phillip von Zabern
Literatur: Daum, Noel: Daum Maitres Verrieres, Lausanne 1980
Literatur: H.Hilschenz-Mlynek, H. Ricke, Glas, Historismus, Jugendstil Art Deco, Bd.1 Frankreich, Sammlung Hentrich im Kunstmuseum Düsseldorf, Prestel Verlag München, 1985.
Literatur: K. Büttiker, Daum Frères – Verreriers de Nancy, Glaskunst aus der Zeit 1892-1935, Zürich 1986
Literatur: Glas des Art Nouveau, Die Sammlung Gerda Koepff, Herausgeber: Ricke, Helmut und Schmitt, Eva, Prestel Verlag München, 1998.
Literatur: Schroeder, Udo: Trinkglaeser vom Jugendstil zum Art Deco. Hamburg 1998.
Literatur: Möller, Renate: Jugendstil. Möbel, Glas, Keramik, Metalle, Leuchten, Schmuck, Uhren. Deutscher Kunstverlag München Berlin 1999,
Literatur: Daum Nancy, Maîtres verriers. Galerie Katharina Büttiker. Zürich 2000 ?
Weiterführende Literatur:
Literatur: Thièbaut, Ph., Un Ensemble Art Nouveau, La Donation Rispal, Musée d'Orsay 2007.
Literatur: Koch, Michael: Meisterwerke des Jugendstils im bayerischen Nationalmuseum München, Hrsg. Eikelmann, Renate 2010, Arnoldsche
Literatur: Bestandskataloge des Bröhan-Museums Band VII. Glaskunst 1889-1939, Herausgeber: Bröhan, Margit Kanowski, Claudia – Berlin 2010. Daum Frères und Cie., Nancy Seite 346 ff.
Weiterführende Informationen zur Désiré Christian: The Glass of Désiré Christian, Ghost for Gallé, Jules S. Traub (Chicago: The Art Glass Exchange, 1978).
Weiterführende Glas-Fachliteratur
Literatur: Yves Delaborde, Le Verre, Art and Design – XIXe – XXIe Siècles
Seite 53. Christian, Désiré
Seite 72. DAUM (verreries de Nancy) (Seite 74. Kürbisvase, Seite 75. Vase mit Wein und Applizierten Schnecken, Seite 76. Pfauenfederlampe)
Seite 86. Décorchemont, Francois 1880-1971
Seite 120. Gallé, Émile (1846-1904)
Seite 210. Meisenthal, Verrerie
Seite 304. Walter, Amalric (1870-1959), Verrier
Le verre à L´Ètranger, Seite 312. Peter Behrens
Seite 316. Lobmeyr, Verrerie
Seite 317. Loetz, Verrerie
Seite 320. Val Saint-Lambert, Verreie
Seite 321. Velde, Henry van de (Belgique, 1863 – Suisse, 1957)
Seite 325. Tiffany, Verreie et éditeur
Seite 326. Zynsky, Toots (*1951), Verrerier
Burgun, Schverer, Meisenthal Glas Vase Souffleur de verre a la halle, 1897
Gerne kümmern wir uns um Ihre Wünsche, klicken Sie bitte weiter oben rechts auf SIE HABEN FRAGEN? oder ganz oben rechts auf KONTAKT.
Oder besuchen Sie unsere Geschäftsräume während der Öffnungszeiten.
Finden Sie weitere Objekte auf unserer Produktseite!