Henry van de Velde Armchair House Bloemenwerf, Bloemenwerf armchair – Art Nouveau furniture, original Art Nouveau chair designed by Henry van de Velde for his own house Bloemenwerf in Uccle, Brussels 1894/95, executed in Padouk wood. Literature: Daenens, Lieven, Design museum Gent; History and collections (2007) page 76., page 79. – Eetkamer van padoek uit de woning De Craene-Van Mons in Brussel, van Henry van de Velde (1863-1957) ca.1898 – Dining room of padauk from the De Craene-Van Mons residence in Brussels, by Henry van de Velde (1863-1957) ca.1898
---
Henry van de Velde Armlehnstuhl Haus Bloemenwerf,
Entwurf: Henry van de Velde für sein Haus "Bloemewerf" in Uccle bei Brüssel 1894/95
Ausführung: van de Velde Societé anonyme industries d'art d'ornamentation, Bruxelles, 53 rue Gray 1894/95 in Padouk Holz
[afrikanisches Padouk; Botanischer Name: Pterocarpus soyauxii]
Auftrag / Order der Familie Delcommune, vermutlich 1897, Belgisch – Kongo
Maße: Höhe Lehne 99,4 cm, Sitzbreite vorne 54,5 cm, Sitzbreite hinten 40 cnm Sitztiefe 40 cm, Breite gesamt 59 cm
— 1 Inch (Zoll) = 2,54 Zentimeter —
Zustand: excellent, Polsterung muss erneuert werden, Original Polsterung noch vorhanden
Literatur zu La Maison Moderne: Bertrand MOTHES: La Maison Moderne de Julius Meier-Graefe. In: Catherine Méneux, Emmanuel Pernoud et Pierre Wat (ed.): Actes de la Journée d'études Actualité de la recherche en IXe siècle, Master 1, Années 2012 et 2013, Paris, site de l'HiCSA, mis en ligne en janvier 2014.
Vergleichsstücke in den namenhaftesten Museen der Welt: Metropolitan Museum New York: https://www.metmuseum.org/art/collection/search/498042,
Museé d'Orsay Paris: link zum Bloemenwerf Stuhl
Virginia Museum of Fine Arts:https://www.vmfa.museum/collections/search-collections/?keyword=Velde
Stuhl Stuhl, Henry van de Velde
Ein anderes Stuhl Modell von Henry van de Velde im Collection Kirkland Museum of Fine and Decorative Art, Denver, Colorado USA
Das Bloemenwerf Möbelensemble in der Ausstellungs des Möbelmuseum Wien
Gemeente Museum, Den Haag, Niederlande: Bloemenwerf Stuhl,Armlehnstuhl
Klassik Stiftung Weimar: https://www.klassik-stiftung.de/uploads/tx_lombkswterm1/Flyer_VDV_Ausstellungsflyer.pdf
Hessisches Landesmuseum Darmstadt. Möbel aus dem Redaktionszimmer der Zeitschrift Revue Blanche Redaktionszimmer
In der Ausstellung des Kaiser Wilhelm Museums Krefeld "Auf Freiheit zugeschnitten. Das Künstlerkleid um 1900 in Mode, Kunst und Gesellschaft" vom 12. Oktober 2018 bis 24. Februar 2019 ist ebenfalls ein Bloemenwerf Stuhl vermutlich in Padouk mit lederbezogenem Sitz zu sehen.
Ein Zimmer als Gesamtkuntwerk im Nordenfjeldske Kunstindustrimuseum, Norwegen. Das Museum besitzt einen eigenen Raum, der in seiner Gesamtheit vom belgischen Architekten Henry van de Velde im Jahr 1908 entworfen worden ist. Hier ein anderer Armlehnstuhl – Produksjon 1897
Stolen er designet av Henry van de Velde. Stoppingen er utført av Johan Thorn Prikker
Artikel über Henry van de Velde: https://www.srf.ch/kultur/kunst/henry-van-de-velde-der-arrogante-alleskoenner-des-jugendstils
Artikel über Henry van de Velde anlässlich des 150. Geburtstages: http://www.szecessziosmagazin.com/magazin9/henryvandevelde150.php
Siehe auch in der Sammlung Rijkmuseum, Amsterdam, Niederlande: Portret Henry van de Velde, 1906, Edvard Munch, 1906
Henry van de Velde Stuhl Haus Bloemenwerf.
zeitgenoessische Abbildungen des Modells: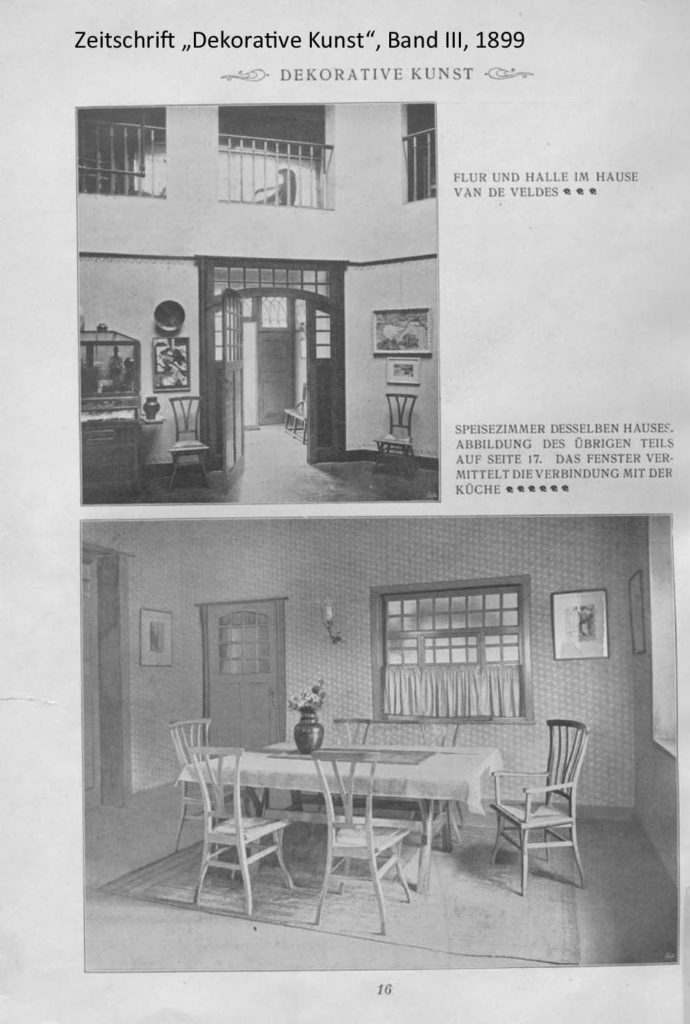 Literatur:
Klaus-Jürgen Sembach, Henry Van de Velde, New York, 1989, pp. 44–45 for the original model; Wendy Kaplan and Elizabeth Cumming, The Arts and Crafts Movement, London, 1991, p. 203, fig. 164 for the original model; Amy F. Ogata, Art Nouveau and the Social Vision of Modern Living: The Belgian Artists in a European Context, Cambridge, 2001, p. 97 for the original model
Daenens, Lieven, Design museum Gent; History and collections (2007) Seite 76 ff. Seiete 79. Eetkamer van padoek uit de woning De Craene-Van Mons in Brussel, van Henry van de Velde (1863-1957) ca.1898
Weiterführende Literatur:
Literatur: Koch, Michael: Meisterwerke des Jugendstils im Bayerischen Nationalmuseum München, Hrsg. Eikelmann, Renate 2010, Arnoldsche. Seite 30
Literatur: Hammacher, A. M., Le Monde de Henry van de Velde, Fonds Mercator, Anvers,
Literatur: Pecher, Wolf D., Henry van de Velde. Das Gesamttwerk. Gestaltung Band 1, Factum, München,
Literatur: Holden, Steffen Wesselvold, "Det totale interiør – om restaureringen av Henry van de Veldes "Gesamtkunstwerk" i Trondheim," Fortidsminnneforeningen Årbok 2009, Oslo
Zeitgenössische Literatur, Innendekoration 1903, Notizen zu van de Velde´s neuesten Schöpfungen
Weiterführende Literatur: Henry van de Velde: Geschichte meines Lebens. Piper Verlag, München 1962. Online zu lesen auf der Internetpräsenz digitale Bibliotheek for de Nederlandse letteren
Archivkarton, Kontaktkopie im eMuseum, Museum für Gestaltung Zürich, Archiv Zürcher Hochschule der Künste
Henry van de Velde Armlehnstuhl Haus Bloemenwerf,
Henry van de Velde Stuhl Haus Bloemenwerf- weitere vorhanden!
Gerne kümmern wir uns um Ihre Wünsche, klicken Sie bitte weiter oben rechts auf SIE HABEN FRAGEN? oder ganz oben rechts auf KONTAKT.
Oder besuchen Sie unsere Geschäftsräume während der Öffnungszeiten.
Finden Sie weitere Objekte auf unserer Produktseite!