Henry van de Velde sideboard model Bloemenwerf around 1895/99 Art Nouveau buffet model "Bloemenwerf" Design and execution: Henry van de Velde around 1895/99 Padouk wood with brass applications and green tiles Dimensions: height 122 cm, width 117.6 cm, depth 69.6 cm – 1 inch = 2.54 cm – Condition: very good Provenance: Family-owned since it was ordered from Henry van de Velde between 1895 and 1899 of the Delcommune-Luytens, Delcommune-van Dorp and Pilier-Delcommune families
---
Henry van de Velde Anrichte Modell Bloemenwerf um 1895/99
Jugendstil Buffet Modell "Bloemenwerf" (1+1)
Entwurf und Ausführung: Henry van de Velde um 1895/99
Padouk Holz mit Messingapplikationen und grünen Kacheln
Maße: Höhe 122 cm, Breite 117,6 cm, Tiefe 69,6 cm – 1 Inch = 2,54 cm –
Zustand: sehr gut
Provenienz: Seit Bestellung bei Henry van de Velde zwischen 1895 und 1899 in Familienbesitz
der Familien Delcommune-Luytens, Delcommune-van Dorp und Pilier-Delcommune
Es sind bislang drei Ausführungen des Buffets bekannt, zeitgenössische Fotografien aus Henry van de Veldes Verkaufskatalog von 1899 zeigen zwei Buffets, die den großen gekachelten Kamin flankieren (vgl. Katalog S. 37). Diese beiden Exemplare der Anrichte sind heute in der Villa Les Zéphyrs, Museum Middelkerke, zu sehen.
Ein weiteres Paar der Anrichten ist abgebildet in der Zeitschrift "Dekorative Kunst" Band III von 1899 (vgl. DK 1899 S. 17).
Die hier zu sehenden Buffets, ebenfalls den Kamin einrahmend, sind identisch mit den hier zur Disposition stehenden. Die Messingapplikationen wie auch die Kacheln scheinen identisch. Es handelt sich um den Speisesaal im Haus des "Herrn T." in Ostende, dessen Identität bislang nicht aufgelöst ist und dessen Haus 1953 neu gebaut wurde. Auffallend ist nicht nur die Nähe des Interieurs des Herrn T. zur Villa Bloemenwerf, scheint die ursprüngliche Fassade in Ostende wie eine kleinere Variation der Schauseite von Henry van de Veldes Heim in Uccle zu sein (vgl. DK 1899, S. 18). Eine enge Formverwandtschaft lässt sich ebenfalls feststellen zwischen den Messing Applikationen auf den Buffettüren und den Kupfereinlagen im Getäfel als Teile eines Speisesaals, der sowohl in Paris als auch 1897 auf der Dresdener Ausstellung zu sehen war (vgl. DK 1899 S. 17).
Zeitgenössische Abbildung des Buffets im Verkaufskatalog Henry van de Veldes 1899: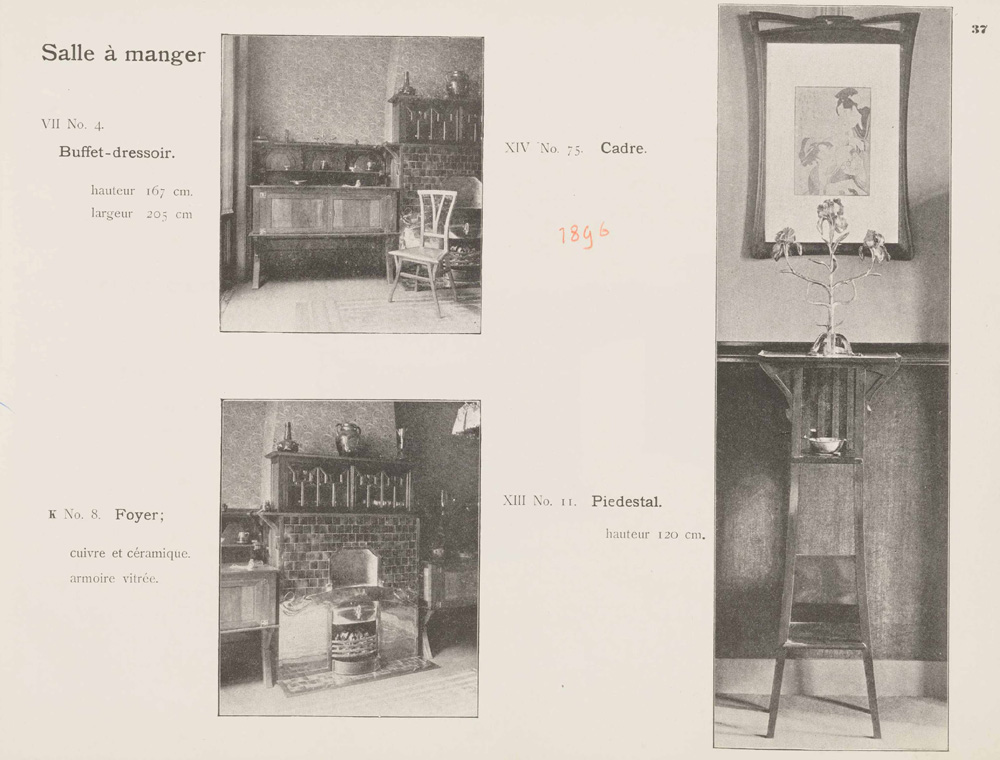 Literatur zu La Maison Moderne: Bertrand MOTHES: La Maison Moderne de Julius Meier-Graefe. In: Catherine Méneux, Emmanuel Pernoud et Pierre Wat (ed.): Actes de la Journée d'études Actualité de la recherche en IXe siècle, Master 1, Années 2012 et 2013, Paris, site de l'HiCSA, mis en ligne en janvier 2014.
Vergleichsstücke in den namenhaftesten Museen der Welt: Metropolitan Museum New York: https://www.metmuseum.org/art/collection/search/498042,
Museé d'Orsay Paris: link zum Bloemenwerf Stuhl
Virginia Museum of Fine Arts
Ein anderes Stuhl Modell von Henry van de Velde im Collection Kirkland Museum of Fine and Decorative Art, Denver, Colorado USA
Das Bloemenwerf Möbelensemble in der Ausstellungs des Möbelmuseum Wien
Gemeente Museum, Den Haag, Niederlande: Bloemenwerf Stuhl, Armlehnstuhl
Hessisches Landesmuseum Darmstadt. Möbel aus dem Redaktionszimmer der Zeitschrift Revue Blanche Redaktionszimmer
MET New York: Zwei verschiedene Stühle (Bloemenwerf), Jardiniere ca.1902, in Silber
Ein Zimmer als Gesamtkuntwerk im Nordenfjeldske Kunstindustrimuseum, Norwegen. Das Museum besitzt einen eigenen Raum, der in seiner Gesamtheit vom belgischen Architekten Henry van de Velde im Jahr 1908 entworfen worden ist
In der Ausstellung des Kaiser Wilhelm Museums Krefeld "Auf Freiheit zugeschnitten. Das Künstlerkleid um 1900 in Mode, Kunst und Gesellschaft" vom 12. Oktober 2018 bis 24. Februar 2019 ist ebenfalls ein Bloemenwerf Stuhl vermutlich in Padouk mit lederbezogenem Sitz zu sehen.
Artikel über Henry van de Velde: https://www.srf.ch/kultur/kunst/henry-van-de-velde-der-arrogante-alleskoenner-des-jugendstils
Artikel über Henry van de Velde anlässlich des 150. Geburtstages: http://www.szecessziosmagazin.com/magazin9/henryvandevelde150.php
Zeitgenössische Literatur, Innendekoration 1903, Notizen zu van de Velde´s neuesten Schöpfungen
Weiterführende Literatur:
Literatur: Koch, Michael: Meisterwerke des Jugendstils im Bayerischen Nationalmuseum München, Hrsg. Eikelmann, Renate 2010, Arnoldsche. Seite 30
Weiterführende Literatur: Henry van de Velde: Geschichte meines Lebens. Piper Verlag, München 1962. Online zu lesen auf der Internetpräsenz digitale Bibliotheek for de Nederlandse letteren
Archivkarton, Kontaktkopie im eMuseum, Museum für Gestaltung Zürich, Archiv Zürcher Hochschule der Künste
Schlagwörter: Inneneinrichtung, Möbel, Sitzmöbel, Stuhl
Josef Hoffmann, Umstätter, Koloman Moser, Wiener Werkstätte, Josef Maria Olbrich, Franz Hofstoetter Leotz Vase, Josef Urban,
Paris Weltausstelung 1900, Peter Behrens, Julius Rückert Mainz, August Endell, Patriz Huber, Bernhard Pankok, Bruno Paul, Maurice Dufrene,
Richard Riemerschmid, Heinrich Vogeler, Henry van de Velde, Gustave Serruier-Bovy, Hector Guimard, JacquesGruber, Paul Follot, Carlo Bugatti,
Louis Majorelle, Emile Galle, Ecole de Nancy, Tony Selmersheim, Eduard Diot, leon Benouville, Georges de Feure, Eugene Gaillard, Francois Carabin
Henry van de Velde Anrichte Modell Bloemenwerf um 1895/99
Sie haben Fragen zum Objekt? Nehmen Sie KONTAKT mit uns auf!
Gerne kümmern wir uns um Ihre Wünsche, klicken Sie bitte weiter oben rechts auf SIE HABEN FRAGEN? oder ganz oben rechts auf KONTAKT.
Oder besuchen Sie unsere Geschäftsräume während der Öffnungszeiten.
Finden Sie weitere Objekte auf unserer Produktseite!