Meissen Art Nouveau porcelain tureen whiplash pattern in gold Vegetable tureen, ragout tureen with cover, Saladiere, Meissen German Art Nouveau porcelain, Peitschenhieb, whiplash Pattern in gold, designed by Henry van de Velde for Meissen 1903/04, Germany. _____________________________________
Meissen Saladiere, Peitschenhieb in Gold, Henry van de Velde,
kleine Deckelterrine.Muster "Peitschenhieb"
Entwurf: Henry van de Velde 1903/04
Ausführung: Staatliche Porzellanmanufaktur Meißen, Meißen um 1905-10
Maße: Breite 28,3 cm, Tiefe 18,6 cm, Höhe insg. ca. 9,5 cm
—  1 Inch (Zoll) = 2,54 Zentimeter —
am Boden gemarkt: Knaufschwerter Marke, Modell Nr. 22, van de Velde Signet sowie in Schreibschrift Saladiere 1
Zustand: sehr gut, erste Wahl
Dieses ist das einzige der Klassik Stiftung Weimar bekannte Exemplar einer Saladiere mit Peitschenhiebdekor in Gold
und ist im Werkband "Werkverzeichnis der kunstgewerblichen und
raumkünstlerischen Arbeiten Henry van de Veldes 1863-1957" Keramik Band III aufgenommen und abgebildet.
Literatur: Radikal schön – Jugendstil und Symbolismus: Die Sammlung Ferdinand Wolfgang Neess. Katalog. Hg.: Peter Forster, Sabine Panchaud, Wiesbaden 2019: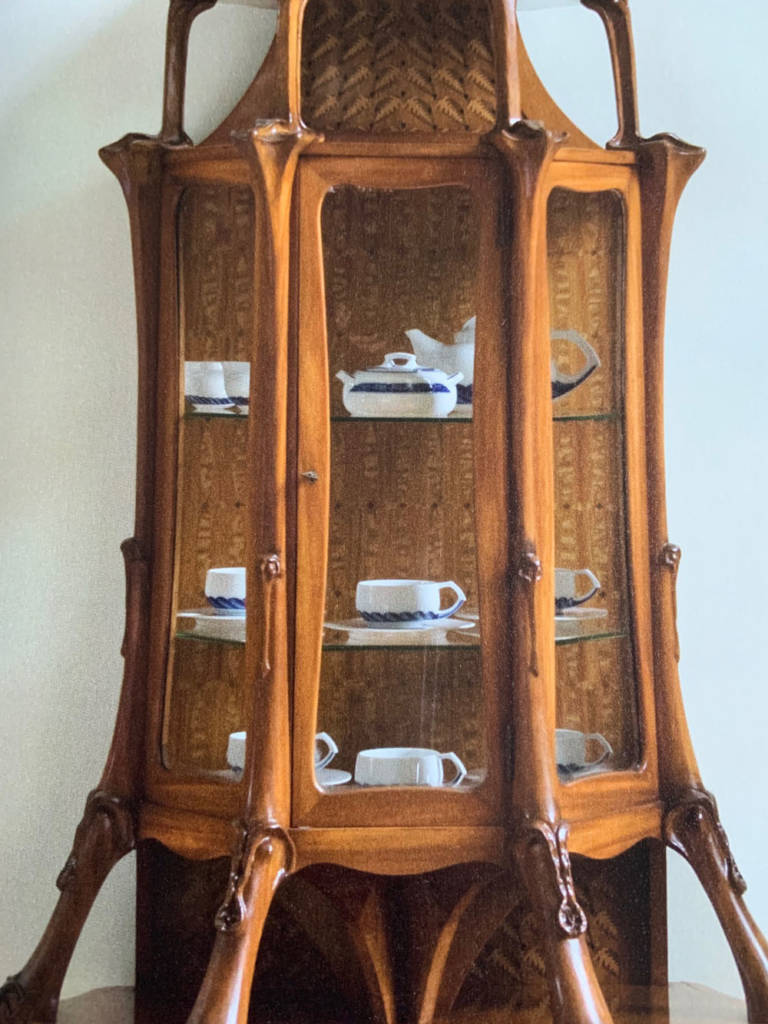 Literatur: Föhl, Thomas und Neumann, Antje: Raumkunst und Kunsthandwerk. Henry van de Velde.
Ein Werkverzeichnis in sechs Bänden. Band III Keramik. Klassik Stiftung Weimar / E.A. Seemann Verlag 2016, Katalog Nr. III.2.1.28 auf Seite 430 ff.
Literatur: Bestandskatalog Bd. V/2 des Broehan Museums Berlin 1996
Literatur: Just, Johannes: Meissener Jugendstil / Porzellan. Leipzig 1983, Katalog Nr. 89 ff.
Literatur: Thomas Föhl und Sabine Walter, Leidenschaft Funktion und Schönheit – Henry van de Velde – und sein Beitrag zur Europäischen Moderne,
Literatur: Daenens, Lieven, Design museum Gent; History and collections (2007) Porseleinen serviesonderdelen van Henry van de Velde (1863-1957), voor Meissener Porzellanmanufaktur, 1903-1904, Seite 78. Sauciere, Brötchenteller, Eßteller in Kobalt Blau
Für Möbel: Seite 76 ff. Seiete 79. Eetkamer van padoek uit de woning De Craene-Van Mons in Brussel, van Henry van de Velde (1863-1957) ca.1898
Literatur: Jugendstil in Dresden, Aufbruch in die Moderne, Ausstellungskatalog Staatliche Kunstsammlungen Dresden 1999,
Meissener Jugendstilmuster auf der Seite:
S.238 Hentschel, Krokus 1, S.243 Hentschel Flügelmuster,
S.244 Theodeor Grust, Kleeblatt; Henry van de Velde HvdV, Peitschenhieb und R. Riemerschmid, Rispe
S.245 O.E. Voigt, Saxsonia; Hentschel, Krocus 2 und Paul Richter, Ahorn,
S.246 Heinrich Vogeler, Rosen Garnitur; Theodeor Grust, Misnia
S.247 Hentschel, Arnica; HAPAG Drachenfisch Teller
Ausstellungskatalog: Hetjens Museum Düsseldorf, Deutsches Keramikmuseum 09. Mai bis 08. August 1999;
Um 1909, Porzellan aus Berlin, Meissen und Nymphenburg, Seite 129 Abb. 131
Weiterführende Literatur: Henry van de Velde: Geschichte meines Lebens. Piper Verlag, München 1962. Online zu lesen auf der Internetpräsenz digitale Bibliotheek for de Nederlandse letteren
Artikel über Henry van de Velde anlässlich des 150. Geburtstages: http://www.szecessziosmagazin.com/magazin9/henryvandevelde150.php
Arbeiten Henry van de Veldes befinden sich in den führenden Design Museen der Welt, Oslo Norwegen; Chicago USA, Britsh Museum, London UK etc.
Art Institute Chicago, Peitschenhieb Teller
Oslo (S): Kunstindustrimuseet i Oslo
Peitschenhiebteller im Museum
Meissen, Design Henry van de Velde
Eßteller, Speiseteller, Dinner Plate, 1903, Detroit Institute of Arts, USA.
Siehe auch in der Sammlung Rijkmuseum, Amsterdam, Niederlande: Portret Henry van de Velde, 1906, Edvard Munch, 1906
Ebenfalls in der Sammlung des Rijksmusem Amsterdam, Niederlande zu finden: Teller –
Bord van porselein, beschilderd met zweepslag-decor in onderglazuurblauw. Het bord is gemerkt.
Stichwörter: Hector Guimard, Louis Majorelle, Victor Horta, Peter Behrens, Richard Riemerschmid, Josef Maria Olbrich, Archibald Knox, Ashbee
Meissen Saladiere, Peitschenhieb in Gold, Henry van de Velde,
kleine Deckelterrine. Muster "Peitschenhieb"
Sie haben Fragen zum Objekt? Nehmen Sie KONTAKT mit uns auf!
Gerne kümmern wir uns um Ihre Wünsche, klicken Sie bitte weiter oben rechts auf SIE HABEN FRAGEN? oder ganz oben rechts auf KONTAKT.
Oder besuchen Sie unsere Geschäftsräume während der Öffnungszeiten.
Finden Sie weitere Objekte auf unserer Produktseite!