Pate-de-verre glass vase by G. Argy-Rousseau
French Art Deco pate-de-verre glass vase
Design and execution: glass, glass paste (melted) by GABRIEL ARGY-ROUSSEAU (1885-1953).
Signed G. Argy Rousseau and France on the bottom
Condition: very good
---
Pate-de-verre Glas Vase G. Argy-Rousseau
Französische Art Deco pate-de-verre Glas Vase
Entwurf und Ausfuehrung: Glaskoerper, Glaspaste (formgeschmolzen) von GABRIEL ARGY-ROUSSEAU (1885-1953).
Signiert auf der Wandung G. Argy Rousseau, am Boden France
Zustand: sehr gut
Literatur: Janine Bloch-Dermant: G. Argy-Rousseau. Les pâtes de verre. Catalogue Raisonné: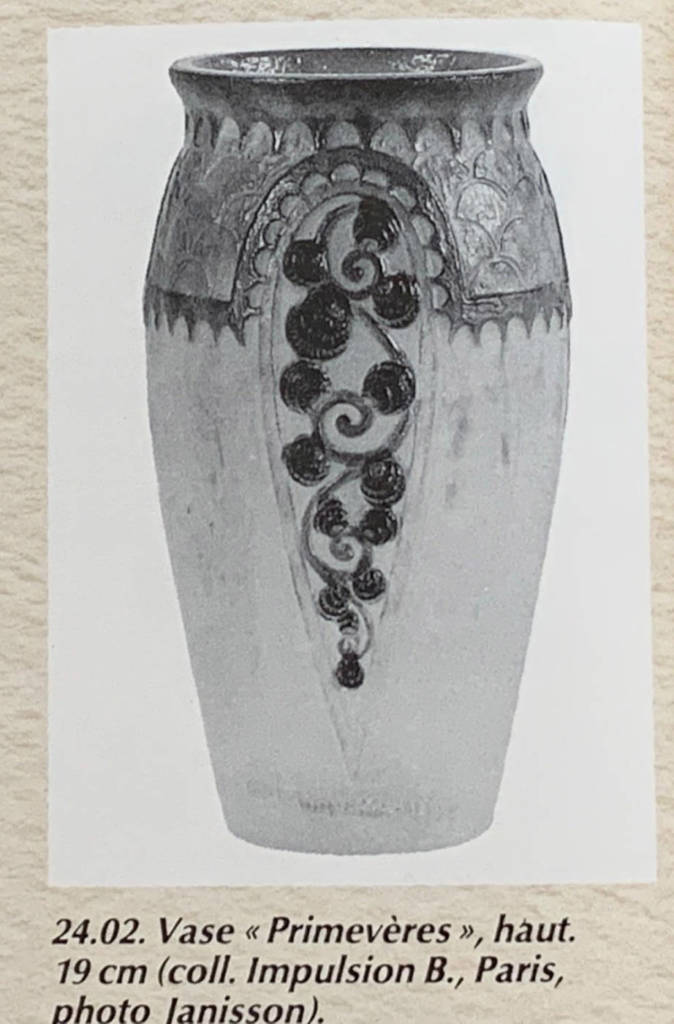 Ecole de Nancy, Maurice Dufrene, Eduard Diot, Georges de Feure, Francois Carabin, Emile Galle, Daum Nancy, Jaucques Gruber,
Gustave Serrurier-Bovy, Louis Gaillard, Paul Follot, Carlo Bugatti, Tony Selmersheim, DESIGN, French Cameo Glass
Vase in der Sammlung von Szépmüvészeti Museum, Budapest – Museum of Applied Arts, Budapest, Ungarn
Joseph Gabriel Argy-Rousseau [Meslay-le-Vidame 1885 – 1953], französischer Keramiker und Glaskünstler, wurde durch seine pate-de-verre Technik berühmt. Ab 1914 stellte er seine Glasobjekte in den Salons des Artistes Français in Paris aus, 1921 lernte er den Glashüttenbesitzer und Galeristen Gustave Moser-Millot kennen, mit dem er die Société Anonyme des Pâtes de Verre d'Argy-Rousseau gründete. (Argy Rousseau, Gabriel)
École de Nancy bezeichnet den 1901 erfolgten Zusammenschluss führender Vertreter des Art Nouveau in der französischen Stadt Nancy. Sie zeichnet sich vor allem durch die enge Zusammenarbeit von Künstlern, Industriellen und Kaufleuten aus. Bekanntester Vertreter der Stilrichtung war Émile Gallé. Besondere Anregungen fand die École de Nancy stilistisch in den Formen der belebten Natur. Ornamentalische Erkennungszeichen der zugehörigen Künstler waren zum Beispiel die Verwendung der Abbildungen von Disteln, Libellen oder auch des Ginkgo. Bereits zum Zeitpunkt ihrer Gründung war die École de Nancy als Verbindung von Künstlern und Kunstindustrie definiert. Sie sollte es dem Zeitgeist entsprechend den urbanen Zentren außerhalb Paris ermöglichen, eine geistige Umgebung zu schaffen, die der Lehre und Entwicklung von industrieller Kunstfertigung dienlich sei. Sie sollte insbesondere in Lothringen eine Brücke schlagen zwischen der hier stark entwickelten Industriebasis (insbesondere der Metallurgie) und den Kunsthandwerkern (Kunsttischlern, Fayencekünstlern, den Glaskünstlern der Glasbläserei und Kristallverarbeitung sowie anderen kunsthandwerklichen Bereichen). Durch die Verbindung von kunsthandwerklichen Fertigkeiten und kaufmännischem Mäzenatentum sollte die systematische, industrielle Produktion von Kunst möglich werden. Dieser Ansatz schloss sowohl Einzelstücke, limitierte Auflagen als auch Serienproduktion ein. Ein möglichst großes, heterogenes kaufkräftiges Publikum im In- und Ausland sollte so angesprochen werden.
Literatur: Schroeder, Udo: Trinkglaeser vom Jugendstil zum Art Deco. Hamburg 1998
Literatur: Möller, Renate: Jugendstil. Möbel, Glas, Keramik, Metalle, Leuchten, Schmuck, Uhren. Deutscher Kunstverlag München Berlin 1999,
Weiterführende Glas-Fachliteratur
Literatur: Yves Delaborde, Le Verre, Art and Design – XIXe – XXIe Siècles
Seite 53. Christian, Désiré
Seite 72. DAUM (verreries de Nancy) (Seite 74. Kürbisvase, Seite 75. Vase mit Wein und Applizierten Schnecken, Seite 76. Pfauenfederlampe)
Seite 86. Décorchemont, Francois 1880-1971
Seite 120. Gallé, Émile (1846-1904)
Seite 210. Meisenthal, Verrerie
Seite 304. Walter, Amalric (1870-1959), Verrier
Le verre à L´Ètranger, Seite 312. Peter Behrens
Seite 316. Lobmeyr, Verrerie
Seite 317. Loetz, Verrerie
Seite 320. Val Saint-Lambert, Verreie
Seite 321. Velde, Henry van de (Belgique, 1863 – Suisse, 1957)
Seite 325. Tiffany, Verreie et éditeur
Seite 326. Zynsky, Toots (*1951), Verrerier
Pate-de-verre Glas Vase G. Argy-Rousseau
Gerne kümmern wir uns um Ihre Wünsche, klicken Sie bitte weiter oben rechts auf SIE HABEN FRAGEN? oder ganz oben rechts auf KONTAKT.
Oder besuchen Sie unsere Geschäftsräume während der Öffnungszeiten.
Finden Sie weitere Objekte auf unserer Produktseite!