The Bloemenwerf Chair, African Padauk by Henry van de Velde Uccle, Brussels
Henry van de Velde Chair House Bloemenwerf
"Bloemenwerf" chair
Chair model Bloemenwerf
Art Nouveau design furniture
Design: Henry van de Velde for his house "Bloemewerf" in Uccle near Brussels 1894/95
Execution: van de Velde Socied anonymous industries of ornamentation, Bruxelles, 53 rue Gray 1894/95 in Padouk wood
Order / Order by Alexandre Delcommune, presumably 1897, Belgian – Congo
Dimensions: height seat 43 cm, height backrest 93 cm, seat width front 45.4 cm, seat depth 39 cm
Condition: excellent, upholstery needs to be renewed, original upholstery still available
The Bloemenwerf Chair, African Padauk by Henry van de Velde Uccle, Brussels
Bloemenwerf chair – Art Nouveau furniture, original Art Nouveau chair designed by Henry van de Velde for his own house Bloemenwerf in Uccle, Brussels 1894/95, executed in Padouk wood
Henry van de Velde chair House Bloemenwerf Design: Henry van de Velde for his house "Bloemewerf" in Uccle near Brussels 1894/95 version: van de Velde Société anonyme industries d'art d'ornamentation, Bruxelles, 53 rue Gray 1894/95 in Padouk wood
Literatur zu La Maison Moderne: Bertrand MOTHES: La Maison Moderne de Julius Meier-Graefe. In: Catherine Méneux, Emmanuel Pernoud et Pierre Wat (ed.): Actes de la Journée d'études Actualité de la recherche en IXe siècle, Master 1, Années 2012 et 2013, Paris, site de l'HiCSA, mis en ligne en janvier 2014.
Comparisons in the most prestigious museums in the world:
Metropolitan Museum New York: https://www.metmuseum.org/art/collection/search/498042,
Museé d'Orsay Paris: link zum Bloemenwerf Stuhl
Klassik Stiftung Weimar: https://www.klassik-stiftung.de/uploads/tx_lombkswterm1/Flyer_VDV_Ausstellungsflyer.pdf
Artikel über Henry van de Velde: https://www.srf.ch/kultur/kunst/henry-van-de-velde-der-arrogante-alleskoenner-des-jugendstils
zeitgenoessische Abbildungen des Modells: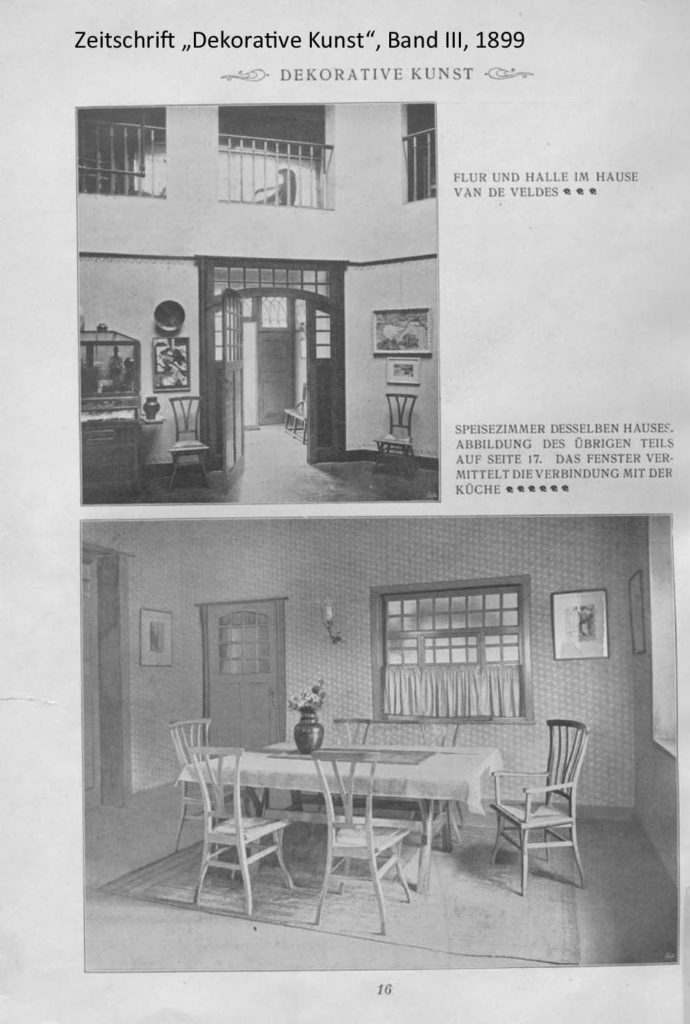 Literature:
Klaus-Jürgen Sembach, Henry Van de Velde, New York, 1989, pp. 44–45 for the original model; Wendy Kaplan and Elizabeth Cumming, The Arts and Crafts Movement, London, 1991, p. 203, fig. 164 for the original model; Amy F. Ogata, Art Nouveau and the Social Vision of Modern Living: The Belgian Artists in a European Context, Cambridge, 2001, p. 97 for the original model
For more information, please click on CONTACT </ strong> in the top right corner!
And or Please visit our Business premises during the Opening hours.