Vine by Tiffany Broadway Sterling, Moore, Astor, Basket Swing handle sugar basket, Tiffany English Sterling, 550 Broadway, Design John C. Moore ca. 1851/52, vine pattern, heavy handrafted candy basket with handle, like the the William Backhouse Astor service, Execution: Tiffany & Co., Broadway New York, USA ca. 1853/54, Sterling silver. This is part of one of the finest & rarest tea sets made since the early years of Tiffany & Company. The silver shines brilliantly in the light with a reflective finish coupled with delicate etching & engraving in high relief work. J.C. Moore & Sons etched a beautiful motif featuring grapes on deciduous woody vines. It has not been engraved. The designers make a strong commitment to this grapevine design that begins at the spout, drapes over the body, showcases its intricacy all the way up to the top, and comes around to the handles. Th sugar basket has a flowing and turning vines with grapes adoring their spouts and handle.
---
Tiffany Broadway Moore Weinhenkelkorb Astor
Wein Henkelkorb, Henkelkorb mit Weinlaubdekor, Zuckerkorb
Körbchen, Pralinen Korb
Entwurf: John C. Moore ca. 1851/52
Ausführung: Tiffany und Co., 550 Broadway, New York 1853/54, USA
Sterlingsilber, Silber 925
Maße: Breite 17,3 cm, Tiefe 13 cm, Höhe ohne Henkel 12 cm, Höhe mit Henkel ca. 16,5 cm, Gewicht ca. 455 g. -1 inch = 2.54 cm-
gemarkt am Boden mit: Tiffany & Co., 50, English Sterling, 4597, 550 Broadway
Zustand: sehr gut, schwere Qualität, monogrammiert
Vergleichbarer Henkelkorb als Teil eines Services wurde William Backhouse Astor Jr. anlässlich seiner Hochzeit im September 1853 geschenkt.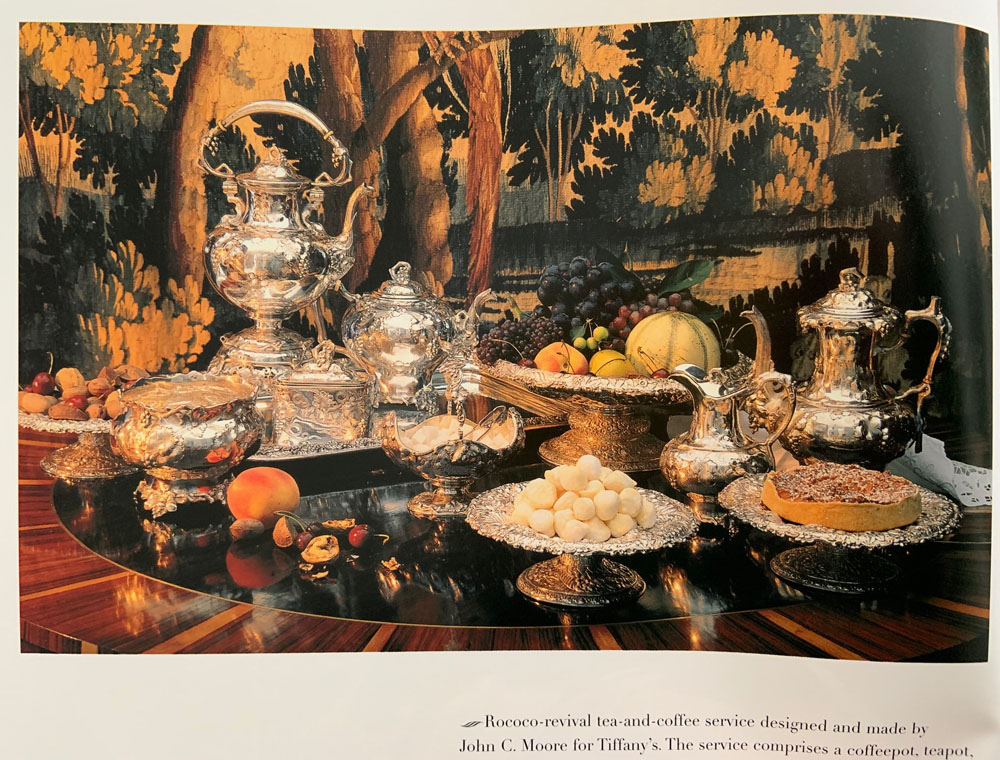 Literatur: John Loring: Magnificent Tiffany Silver, S. 14
Literatur: John Loring: Magnificent Tiffany Silver
Literatur: TIFFANY SILVER by C.H. Carpenter, Jr. (Dodd, Mead and Company New York)
Literatur: Hood, William P. Jr., Berlin, Roslyn and Wawrynek, Edward: Tiffany Silver Flatware 1845-1905. When Dining Was an Art. Woodbridge, Suffolk, England 1999.
Literatur: Encyclopedia of American Silver Manufacturers, 3rd edition revised, Dorothy T. Rainwater, 1986, Schiffer Publishing, West Chester, PA
Literatur: Elizabeth McGoey (Hg.): American Silver in the Art Institute of Chicago, Chicago USA 2017
Literatur: Gorham Silver Designing Brilliance 1850-1970. Publisher & Date Rizzoli ELECTA, 2019
Literatur: Collecting Inspiration: Edward C. Moore at Tiffany & Co. By Medill Higgins Harvey, 2021
Charles Tiffany beauftragte John C. Moore und seinen Sohn Edward C. Moore, exklusiv für Tiffany & Co. zu arbeiten, nachdem sie 1851 auf der "Crystal Palace" Weltausstellung in London
für ein Teeservice aus massivem Gold im Rokoko-Revival Stil große Anerkennung erlangten.
Dieses Service wurd mindestens noch zweimal angefertigt:
Für Eisenbahnpräsident Charles F. Pond 1954. Hartford and New Haven Railroad Company. Tiffany Tablett
sowir für James E. Birch 1855, Gründer der California Stage Company
Im Museum:
Tiffany Silber
weitere Tiffany Objekte in unserem Bestand
Tiffany Broadway Moore Weinhenkelkorb Astor
Stichwörter:
James E. Birch, California Stage Company, Charles F. Pond Päsident der Eisenbahngesellschaft, Hartford and New Haven Railroad Company. Tiffany Tablett – High Museum Art, Atlanta, Georgia, USA.
The Great Exhibition = 1. Weltausstellung in London 1851, Caroline and William Backhouse Astor Jr., 840. Fifth Avenue New York. USA
Stichwörter USA:
Taxco, William Spratling, Allan Adler, Gorham Manufacturing Company, Kirk & Sons "Repousse", Whiting Sterling, Bigelow, Kennard & Co./ Boston, Aesthetic Period, Acid-Etched Silver, Repoussé Silver, American Arts and Crafts Sterling Silver, The Kalo Shop, Hand Beaten at Kalo Shops Park Ridge Illinois,
Gerne kümmern wir uns um Ihre Wünsche, klicken Sie bitte weiter oben rechts auf SIE HABEN FRAGEN? oder ganz oben rechts auf KONTAKT.
Oder besuchen Sie unsere Geschäftsräume während der Öffnungszeiten.
Finden Sie weitere Objekte auf unserer Produktseite!