Henry van de Velde, silver cutlery model no. 1, tea spoon,
Teaspoon
Design: Henry van de Velde around 1902, model I
Length: 14,6 cm
Marks: Half-moon, Crown, silver 800 and Henry van de Velde Signet
Owner's monogram: Herbert & Hanni Esche, House: Esche Chemnitz Germany
Handmade sterling silver cutlery
Condition: very good according to age, rare collectors item
Iconic German Art nouveau design cutlery, Sterling silver teaspoon, pattern No.1 by Henry van de Velde, Uccle, Weimar Bruxelles
Literature: Thomas Foehl – Antje Neumann: Henry van de Velde. Spatial arts and crafts. A catalog raisonné in six volumes. Klassik Stiftung Weimar 2009. Volume 1: Metal Art.
_________________
Henry van de Velde Silber Besteck Modell I Teelöffel,
TEELÖFFEL
Jugendstil Tafelbesteck
Entwurf: Henry van de Velde um 1902, Modell I
Länge 14,6 cm
Silber 800
gemarkt: 800 und Henry van de Velde Signet
Besitzermonogramm
Herbert u. Hanni Esche, Haus Esche Chemnitz
Zustand: altersgemäß sehr gut
Literatur: Radikal schön – Jugendstil und Symbolismus: Die Sammlung Ferdinand Wolfgang Neess. Katalog. Hg.: Peter Forster, Sabine Panchaud, Wiesbaden 2019: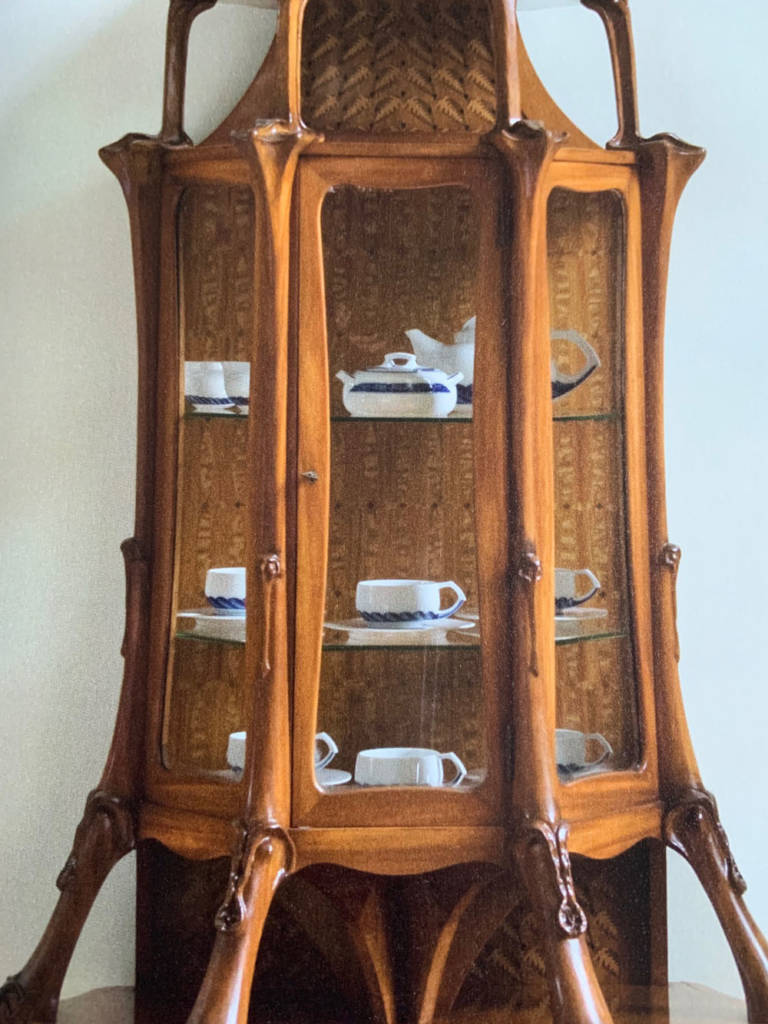 Herbert Eugen Esche [1874 – 1962], Chemnitzer Textilunternehmer und Mitinhaber der damals gerade expandierenden Strumpffabrik Esche, und seine Frau Hanni Esche beauftragen 1902 den in Deutschland noch wenig bekannten belgischen Künstler Henry van de Velde mit dem Bau und der Einrichtung der Villa Esche am Rande von Chemnitz. Sowohl die Architektur als auch das Mobiliar, die Wandverkleidungen, die Beleuchtung, das Speiseservice und Essbesteck bis hin zum Familienmonogramm wurden von Henry van de Velde entworfen und bilden so gleichsam ein Gesamtkunstwerk, das eine Etappe auf van de Veldes Suche nach dem "neuen Stil" verkörpert und dem er selbst eine exponentielle Bedeutung beimaß.
Literatur: Reinhard W. Sänger (Saenger), Das deutsche Silber-Besteck: Biedermeier, Historismus, Jugendstil (1805-1918) Seite 208-215
Literatur: Grotkamp-Schepers, Barbara und Sänger, Reinhard W.: Bestecke des Jugendstils, Bestandskatalog des Deutschen Klingenmuseums Solingen. Stuttgart 2000. S.52. Abb. 21
Literatur: T. Foehl / A. Neumann: Henry van de Velde. Raumkunst und Kunsthandwerk. Ein Werkverzeichnis in sechs Baenden. Klassik Stiftung Weimar 2009. Band 1: Metallkunst, Metallkunst, Nr. I.3.1.7
Literatur: Daenens, Lieven, Design museum Gent; History and collections (2007) – Abbildungen:
Zahnstocher Halter, Toothpick holder, Tandenstokerhouder van verzilverd koper, van Henry van de Velde (1863-1957), ca.1905 Seite 80.
Hummergabel, Lobster pick, Zilveren Kreeftenvork van Henry van de Velde (1863-1957), voor Theodor Müller, Weimar (Duitsland), ca.1900, Seite 82.
Silber Besteck, Fischbesteck, Aufschnittgabel, Zilveren bestekonderdelen van Henry van de Velde (1863-1957), ca.1903, Seite 83.
Doppelgewürzhalter mit Salzlöffel in Silber, Zilveren specerijenset van Henry van de Velde (1863-1957), ca.1905, Seite 85.
Porzellan, Porseleinen serviesonderdelen van Henry van de Velde (1863-1957), voor Meissener Porzellanmanufaktur, 1903-1904, Seite 78. Porzellan Sauciere, Brötchenteller, Eßteller, Muster Peitschenhieb in Kobalt Blau
Für Möbel: Seite 76 ff. Seiete 79. Eetkamer van padoek uit de woning De Craene-Van Mons in Brussel, van Henry van de Velde (1863-1957) ca.1898
Stichwort: Sterling Silber Tafelbesteck, Silberbesteck
Das Museum of Modern Art beherbergt eine der weltweit bedeutendsten und einflussreichsten Sammlungen moderner und zeitgenössischer Kunst. Henry Clemens van de Velde Lobster Fork
Arbeiten Henry van de Veldes im MET New York: https://www.metmuseum.org/art/collection/search#!?sortBy=Relevance&q=Henry%20van%20de%20velde&offset=0&PerPage=20
Vergleichsstücke befinden sich in der Sammlung: Dallas Museum of Art, dort Tafelmesser, Tafellöffel, Tafelgabel
oder London Betseck Nr.1, Henry van de Velde
Gemeente Museum, Den Haag, Niederlande: Jardiniere
Siehe auch in der Sammlung Rijkmuseum, Amsterdam, Niederlande: Portret Henry van de Velde, 1906, Edvard Munch, 1906
Henry van de Velde Silber Besteck Modell I Teelöffel,
TEELÖFFEL
Besteck "Modell I", Entwurf für den Großherzog von Weimar 1902, Ausführung Koch & Bergfeld Bremen für Theodor Müller Weimar 1903, Silber gest. 800, Künstlersignet
Sie haben Fragen zum Objekt? Nehmen Sie KONTAKT mit uns auf!
Gerne kümmern wir uns um Ihre Wünsche, klicken Sie bitte weiter oben rechts auf SIE HABEN FRAGEN? oder ganz oben rechts auf KONTAKT.
Oder besuchen Sie unsere Geschäftsräume während der Öffnungszeiten.
Finden Sie weitere Objekte auf unserer Produktseite!